Sabah "The Tango Yak"
Sabah got addicted to Tango in the late nineties. It started with dancing and now it includes being a DJ.
"…Tango music occupies my thoughts and energizes my spirit and I am in constant search for good music. Although I try to vary the music I play, I am heavily influenced by the style of dance in Buenos Aires as well as the music played at the milongas there so feel free to call me old fashioned. I live for Golden age music. The emotional impact of the music is what I look for in addition to the musicality."
---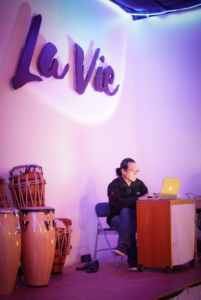 Vincent Wong
From collecting vintage audio for critical listening in a wide variety of music, Vincent found his passion for Tango in Los Angeles 2007. As an active Tango dancer himself, he used music to paint a picture in every milonga he DJed. Vincent has DJs tango festivals since 2012 from coast to coast in the USA including Los Angeles, San Diego, the San Francisco Bay Area, Tucson AZ, Portland, Ashland OR, Albuquerque NM, Seattle WA, Denver CO, Chicago IL, Providence RI, Tampa FL, Las Vegas, NV, and more coming…..
---
Jun Yi
Intrigued by the intensity of the music and the beauty of the dance, Jun started her tango journey while studying at Yale. She later became deeply involved in the Yale Tango Club and cherished this community as her family. She started DJing at YTC's regular events, and organized classes, workshops, milongas, and co-organized two annual festivals. After moving to New York City, her journey as a tango DJ continued. Jun has shared her music selections with quintessential milongas in New York City and San Francisco, where she is currently living, as well as milongas in Buenos Aires, Italy, and China. With a gentle and sensitive soul actively listening to the dance floor, Jun creates a music space that speaks to dancers' emotions absorbed in a warm embrace, elegant steps, and playful movement.
---
Brick Robbins
From San Diego, Brick has been DJing for dancers over a decade in both Tango and other genres. He DJs at festivals around the world and in his home town. With a love and deep knowledge of golden era tango for traditional milongas he uses the music to maintain a perfect energy level in the ballroom. Brick also brings his extensive library of dance music from outside of traditional tango to the Alternative room to create a fun and energetic dance experience for those inclined to push boundaries.
---
Olga Bogatova
When Olga took her first tango class she immediately discovered that this dance was a meaningful language with endless possibilities to create and interact. She became addicted to the dance and started collecting traditional and alternative tango music right away.
DJing has opened new doors for her to entertain dancers and connect with the community. With a diverse music taste, Olga combines tandas that tap into the mood of the milonga. Her goal is to keep everyone dancing and let the dancers experience the range of emotions that tango communicates. You can catch Olga at the milongas in San Francisco and East Bay.
…. And more to come!